Interactive Flat Panel Displays
This is new school. Children don't want to be taught; they aspire to learn. Interactive flat panel displays are the future of education. They are the here and now. Throw away those old boards and bring in all new interactive uhd boards.
Every class needs an interactive flat panel display
Imagine an English lesson. A stuffy classroom, with children, heads down in their books, as their teacher reels off  inspirational quotes; desperate to wring just one ounce of engagement from their lesson weary class. The unruly students – frantic to return home to the sensory overload of the latest Call of Duty or FIFA iteration on their shining gaming console – doing their best to disrupt, to destroy, any shred of engagement on offer.
The introduction of interactive flat panel displays into the educational sector has provided a big boost in engagement greater than ever before. Children today are switched on by technology; hard wired to engage with modern interfaces more than any generation.. Equipping your classroom with a clever touch technology smart board is a great way to generate learning flow resulting in better grades, and happier pupils. We pride ourselves on not being creators of this technology, but pioneers. Our boards are the leading smart boards available and we pride ourselves on being better than the rest; such as clever touch.
Quality of our Smart boards
Most importantly our products like the smart board range are tuned towards making learning fun and keeping engagement in addition to this we focus on making sure that all of our products are the highest quality possible. Above all learning is the most important goal.
Teachers and students alike can join in engaging educational scenarios like never before, fostering positivity and focus; which relates directly to one thing: results. Display high quality video and slideshows, in addition to annotating in real time. Connect tablet PC's into the system to enhance interactive collaborative group tasks, then evaluate and archive your lessons through seamless screen recording and sharing. .
As with a modern classroom environment, interactive UHD boards, or flat panel displays as they are known as, have revolutionised the way business meetings and seminars are conducted. Time is money – this mantra is no more relative than in today's world of business. Dynamic, fast paced and effective is the brief. So, in seminar and meeting environments this equates to providing dynamic and concise presentations to both engage and hit the point.
Interactive Flat Panel Displays increase engagement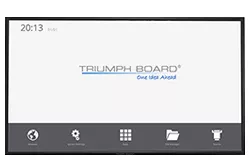 MONITORS
New TRIUMPH BOARD UHD Monitors are professional 4K monitors with amazing picture quality and stunning coluor. All in a sleek design with a thin frame. The uses for our new monitors are virtually limitless, check out the latest Triumph Board today and never look back.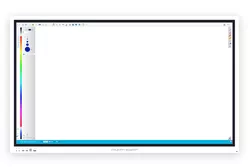 Interactive Uhd displays
TRIUMPH BOARD Interactive Flat Panel Displays are the perfect tool for your big business presentation and meetings. Multi touch technology allows up to 20 users to write at the same time. You can choose from various sizes – 86"/ 75″ /70"/ 65"/ 55" and accessories.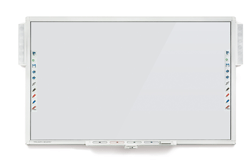 Interactive Whiteboards
TRIUMPH BOARD funding products – latest value line series build to hit the ever growing needs and enable a presenter to perform at their highest. Allowing up to 6 fingers to write, draw, or more, OR 3 people to operate the interactive whiteboard with 2 fingers each, allowing for combined use.
Presentations are powerful, thus TRIUMPH BOARD has built its business on being One Idea Ahead, in offering fantastic interactive uhd board products and other clever touch audio visual equipment that meets ever growing needs and enables the you to perform at the next level.
Neklanova 122/15, 128 00 Prague, Czech Republic